How would you like to profit from all 28 races at Cheltenham this year?
Despite the astronomical odds, it is possible. The trick to doing so is unique to a betting exchange.
Not just great prices
There are some significant benefits to using a betting exchange during a big race meeting.
You will get cracking odds, improving your chance of winning in the long term. But you can also do some very clever things, such as asking for odds that are not available or creating bets that will profit if any of several horses win.
But the most innovative way to profit on a betting exchange is to do some Betfair trading.
Trading odds in instead of betting on them
I'll always remember the wonder of discovering horse racing and the confusion at how nobody seemed to know what the correct odds should be to win a race. Because of this, one of the unique aspects of betting on horse racing is that the odds move around a lot before the race starts.
By backing and laying at different odds during this period, we can profit from the difference between the two odds. Even better than that, we can 'hedge' our profit to win regardless of who goes on to win the race.
But, of course, the big question is, what will cause the odds to move in one direction or another?
What causes the odds to move?
We could discuss many facets, but some key ones are also the most influential in moving odds.
Weather / Going
Most horses perform better over certain types of ground, so if you see changing going due to forecast heavy rain, for example. That will affect the chances of a horse winning and, therefore, its odds. Keeping an eye on the weather is critical to spotting a reasonable adjustment in odds.
Preliminaries
The preliminaries are the stage where horses are prepared for the race. They are saddled and paraded before the Jockey mounts the horse and takes them to the start.
If the horse misbehaves during this period, its price will drift as people are less willing to back the horse.
This rerating of odds is more prominent the shorter the price of the horses.
Previous race results
Another dominant factor that plays a part in the price of a market is the results from prior races. This effect can be powerful during big meetings where large crowds can move the odds on course.
This effect is weak at the start of the day, as no results are known, but it will get stronger with each race.
Typically when a trainer, Jockey, or preferably both win a series of races, the betting market will get into a bit of a fever and start piling in on the next race.
On Friday in 2022, this was the dominant characteristic, and each of the top Willie Mullins runners were backed heavily as the day progressed.
Identifying runners later in the day and backing them early can be an excellent trade.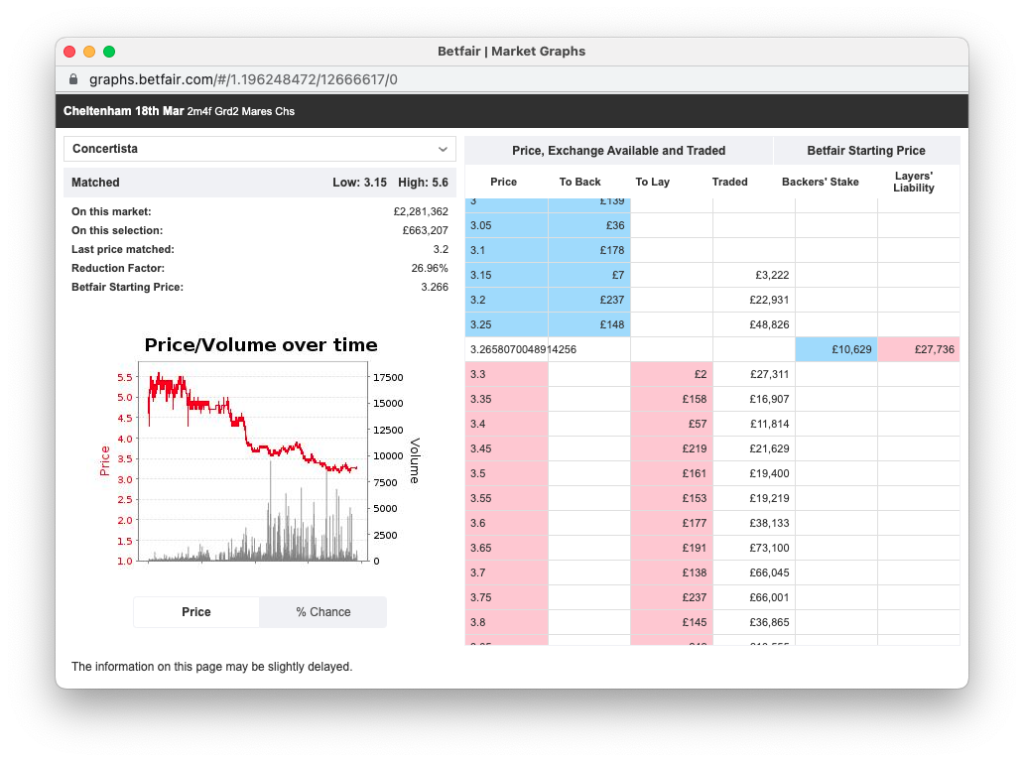 Why Cheltenham is a great place to trade
One of the reasons that Cheltenham is a great place to deploy a Betfair trading strategy is the market's sheer size.
Over the last ten years, matched betting turnover in the outright win market has been between £75-100m. It creates the right balance of volume, liquidity and price movement that is ideal for trading.
How I won all 28 races at Cheltenham
As I have detailed, several strategies will allow you to profit.
It's perfectly possible to pick up on any of these characteristics, wait for the moment, and profit by trading it. Once you have mastered that strategy, you can move on to the next. As I have been trading for so long, it's my second nature to pick up on the right strategy for each market quickly. Trading at this level is a skill.
But you can do many simple things to profit from the movement in odds on horse racing. Combining those things allowed me to profit so consistently.
The year I managed to win on all 28 was 2020, which begs the question of what has happened since then. Well, in 2021, I won 27 races and last year, 26. I don't like that downward trend. But I'll be back this year doing roughly the same thing as in previous years and dreaming of another clean sweep!
With your new knowledge, I hope you can also join me at Cheltenham this year.