When people offer you horse racing tips, they are typically looking to recommend a back bet to you. Perhaps there is a customer offer on a qualifying bet that gives you a good chance of winning or it's just a plain old tip? But generally speaking, most people back to find a winner. For the bet to win the horse has crossed that line first and been declared a winner. That makes sense.
But we are going flip things on their head and give you a way to win if you back the loser!
Is it really possible to get a solid profit from backing a loser on a race? Well there is a way of achieving this using Bet Angel. Today we have a quick blog post explaining a relatively easy way of winning with the loser using the dutching tool and the margin maker.
Guide to losers success!
Firstly I'm on Bet Angel's Dutching screen and I have placed a trade on this Brighton race. To place this trade I have set my staking method 'back with a stake' to £100, my margin to 10% and I am using the margin maker (also see below).
I have now put my bet in and it seems the price on this one hasn't been matched because it's odds that aren't available or we're hoping to get matched in play. So I'm going to keep that over to the in-play period and we'll see what happens from here.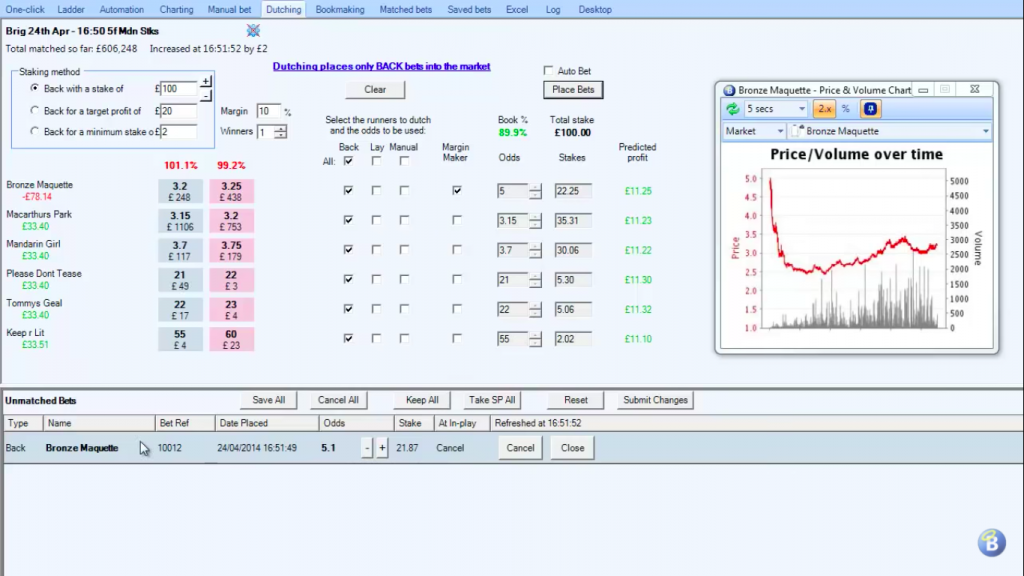 As we can see, the book percentage is 90% and a great thing is the margin maker which allows you to price a book effectively with a set amount of money that you wish to make. So on this occasion, we can make 10%. By having a metric such as 10%, it allows us to manage the risk very effectively because at 10% we want to win 9 out of 10 races.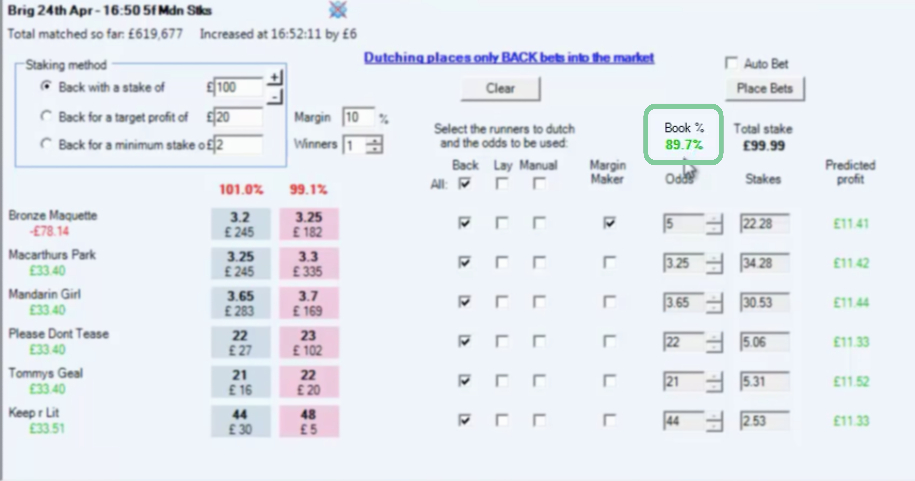 You can see there that the horse didn't get off to great start and we've been matched immediately. When you look at any particular race there will be certain characteristics within the race. Whether it's the draw, the price of the favourite in the remaining fields, the way the horses run, the way the course it's likely to be run… that will allow you to get positions matched in play like this.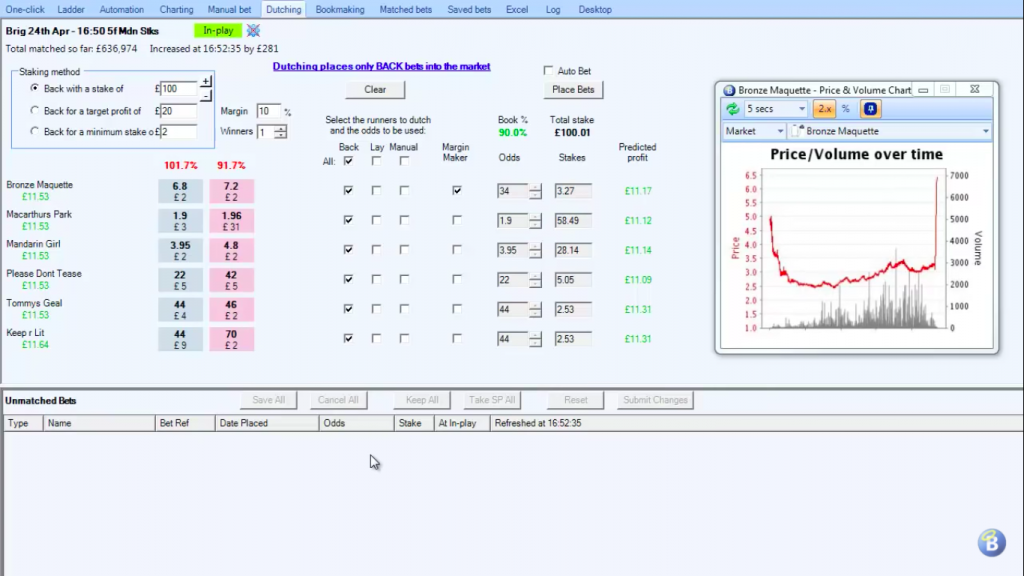 You have to be patient…
Typically, it's not until the latter stages of the race that you'll have to wait until you get a bet that gets matched at some particular point or another because the race is generally won in the last three furlongs or so.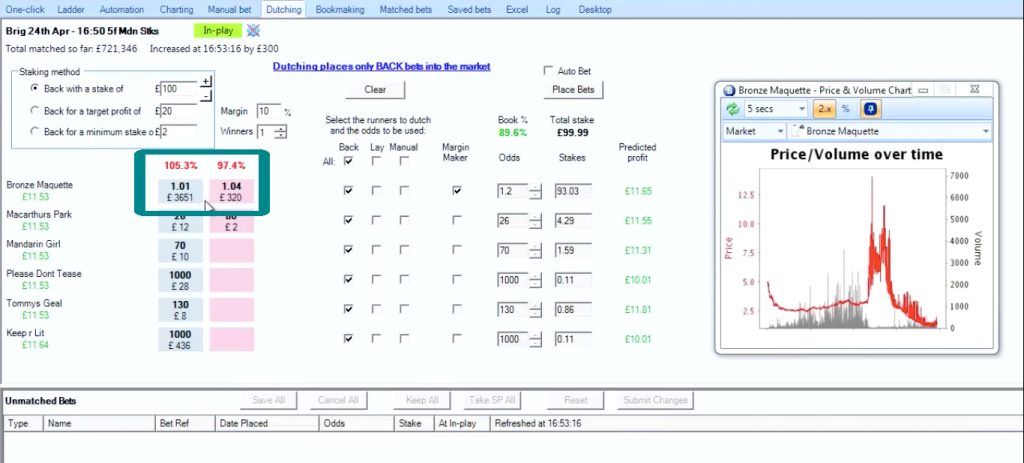 You can see circled is the horse that we traded, for this horse we asked for a much, much bigger price. The horse is going to win and yet we've been matched at that price as the race actually got underway.
So there are a number of characteristics within a race that will determine that. By simply using the margin maker, you can actually create a position that takes advantage of the price of a horse drifting in-play.
Now, the price of a horse can drift in-play if something else comes into contention automatically if it went on to win or if it loses its race, then you're going to get matched at a higher price anyway.
That's why we've used the dutching to do this, because if we price in a certain amount of margin, when we use the margin and make it Bet Angel will put that in in a much higher price.
Efficiency using margin maker
There are 6 horses in this race, 5 of them are going to lose. So 5 of those 6 will trade at a higher price. This means the position that we're taking is based upon the margin that we're asking for, the price that that generates and then the chance of that getting matched in play.
This makes it a far more efficient way to achieve a great result rather than attempting to offset a bet simply because you have some defined parameters to work with. In this case, you've got margin of 10% and that will tell you exactly what you need to do in order to get that matched.
So let's flip to the to the next market in Perth and do the same again. If we were going to do the same in this particular market, then we can go to dutching, back all the horses, we then select whatever stake we want to use us. (I suggest you use practice mode and a small stake if you're doing it for real.)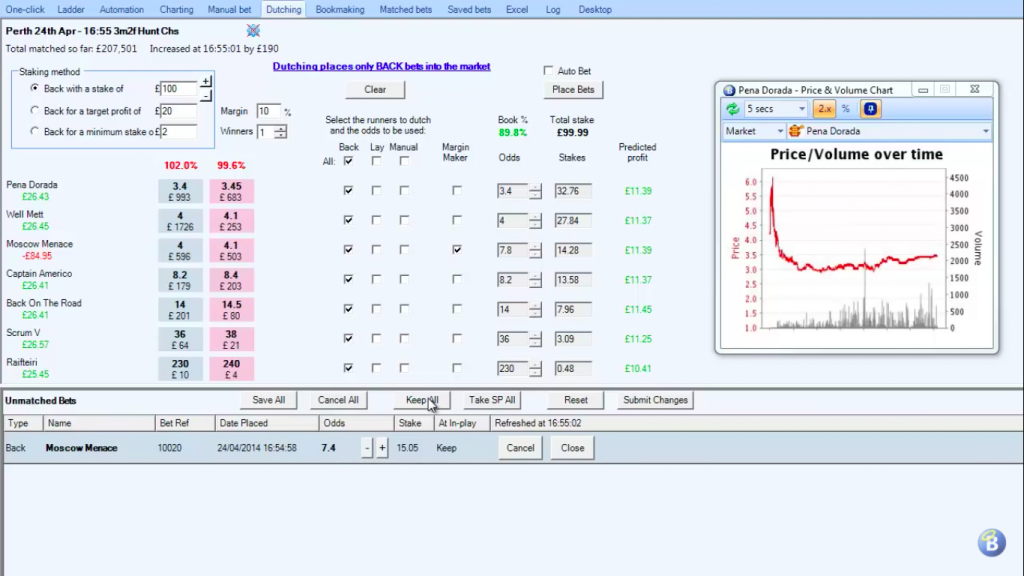 Then we click on the horse that you want to drift in running. In this case, if we choose Moscow menace, it only needs to go from 4.1 to 7.8. Finally we 'place the bets' and then keep that bet by pressing the 'keep all' button in the in-play period. Now that position is ready to run in the next race in Perth!
Summary
This is a great way of using the margin maker and can give you brilliant results. The best thing about this is that it clearly shows you how much upside you will get and therefore what strike rate you need to be profitable. Which is, essentially, the key to all trading.
Best of all, it can even allow you to win by backing the loser!
The post Horse racing tips – Win by backing the loser! appeared first on Betfair trading blog | Expert advice from Professional Betfair trade.