Anybody who has been close to, own, or rides a horse will know they flighty animals and that extends to their behaviour when they are racing.
I never knew the importance of a jockey until I started really understanding horse racing, but handlers and jockeys can have a lot of influence over the way a horse is prepared and produced during a race. Keeping a horse 'happy' or maintaining it's temperament can be a tricky business, especially with sprinters who are bred to be highly strung types.
Unfortunately, it's a fairly regular occurrence that a horse can misbehave and sometimes refuses to load in starting stalls or refuses to go to post. When this occurs the horse is withdrawn from the race and a Rule 4 betting deduction is applied to a betting market.
What is a 'Rule 4'?
Rule 4, or Rule 4(c) given its full title, is an agreed industry standard which protects layers in any market in the case of non-runners. You should see these terms replicated on any betting site as they are applied as standard terms in the industry.
If you take a price on a horse or greyhound in a race after the final declarations are made, and one or more of the others are then declared non-runners, the original price will no longer reflect the real chance of winning the race. When a rule 4 is applied this will reduce your pay-out should your selection win, with the reduction depending on the price at the withdrawn runner.
How often does horse get withdrawn from a race?
The chance of a horse not starting a race is quite common, but this is more a function of the number of runners you get in a horse race.
Each day you could get seven or more races at a meeting and there could be three to six meetings run in a day. Each of those races will contain an average of ten runners, so on any one day, you could have 420 or more horses running.
Expecting all 420 horses to behave themselves and start all races as expected, is a bit of a longshot. So the odds of a withdrawn horse on any one day is actually quite high. There may also be more than one per race, the most I have ever seen was in one race was six, reducing a field of 11 to just 5 runners.
How a Rule 4 is applied on a betting exchange
Betting exchanges apply deductions in a slightly different manner to traditional bookmakers and sportsbooks. This is due to the unique way that a betting exchange works. Rule 4 deductions are still applied.
There are some key differences when applying a Rule 4 deduction on a betting exchange.
The first is that any lay bets that account for 2.5% of the market or less are voided. This means that backers of one or more horse, for example when you are applying the Betfair trading strategy of dutching, will benefit when a horse is withdrawn in this manner. But layers will not see their bets adjusted.
The Betfair betting exchange and other bettings exchanges, have to strike a price as which a horse is withdrawn. The industry, in general, will use the starting price or the price at the time of withdrawal by the stewards. But on betting exchanges, the price of a rule 4 is known in advance and is published on each runner and is known as the 'reduction factor'.
In the example we have provided below, you can see the reduction factor was nearly 25% which more or less corresponds to decimal odds of 4.00. If this horse was withdrawn, then all bets elsewhere in this betting market would be adjusted down by 25%.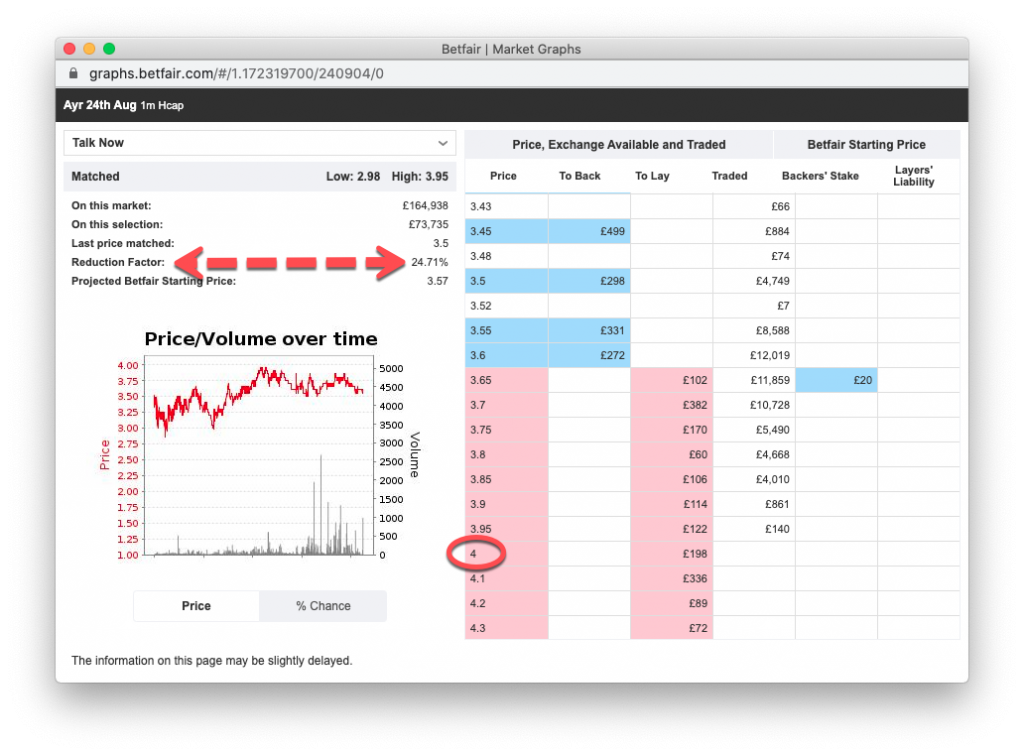 Withdrawn horses and false in-play markets
It's important to understand that a runner may be withdrawn before a race starts at any moment. So this could be 24 hours before the start, or just as the race is about to start.
But it is also possible that the runner may be included in the 'in-play' part of the market despite the fact that it did not run! This will significantly distort the settlement of the market after the race has been run and if you are betting or Betfair trading inplay, you could be betting into a false market. Only when the race is completed will the rule 4 deduction be applied.
Betfair provide a full calculation on their website.
Checking to see if a horse has been withdrawn
If you see that you are missing some bets on your Betfair account, but Bet Angel has clearly shown they were placed. It's quite likely that one horse or more was withdrawn.
If you want to check what happened in any one particular race the British Horse racing authority stewards will provide the information on their twitter feed.
The post Horse racing | Rule 4 deductions for withdrawals appeared first on Betfair trading blog | Expert advice from Professional Betfair trade.