Automating your Betfair trading
When I first started trading on Betfair I was generally a manual trader, but I was keen to create a much more flexible trading platform for the Betfair exchange.
So when Bet Angel was launched I asked for our development team to put in Excel Compatability so I could link to a spreadsheet. Using a spreadsheet I could easily do some simple automated betting and trading, but I still needed to learn to write VBA code to do more complex automated trading. This meant you still needed some skills that were not in the hands of everybody.
Bet Angel launches advanced automation
Therefore in 2011, we added a completely new advanced automation feature. The key concept of this feature was to bring the power of creating your own Betfair bot or just some simple Betfair automation into the hands of many.
No longer did you need to learn any coding skills or complex protocols, the ability to semi-automatically or fully automate your Betfair trading was completely in your hands via a simple click and select method. Each step was carefully broken down in clear and concise steps with intuitive drop-down menus. It's also structured around the process of trading a sport, not coding a piece of logic!
To help Betfair traders that wish to automate some or all of their trading, we have also created a vast range of automation templates that our customers can use to either put into the market directly or to tweak and modify to suit their own needs. This dramatically speeds up the time it takes to go from an idea to putting a Betfair trading strategy to use in the market.
Here is a quick guide on how to put one of those files to use.
10 easy steps to automating your Betfair trading
With Bet Angel's advanced automation, it's so easy that anyone can do it, and the purpose of this thread is to show just how easy it really is to get started and fully Automate a whole days trading activity in just 10 easy steps.
Step 1
Download any of the hundreds of ready-made example files from the shared files section on this forum http://www.betangel.com/forum/viewforum.php?f=43 by clicking on the .BAF file attachment found at the end of the 1st post of each thread.

Step 2
Log into Bet Angel (I would advise doing so in practice mode, to begin with)


Step 3
After logging into Bet Angel click the green 'G' icon to open Guardian

Step 4
Set your refresh rate as appropriate on the main Guardian banner. In the UK you will be able to set this to 20ms, but you may want to slow this down if you are overseas and not using a VPS.

Step 5
Tick the 'Show Sidebar' box
Step 6
Click 'Add' to add all the days racing markets to Guardian or if you wish to trade some different sports see this thread on how to search for those markets – http://www.betangel.com/forum/viewtopic … 47&t=13289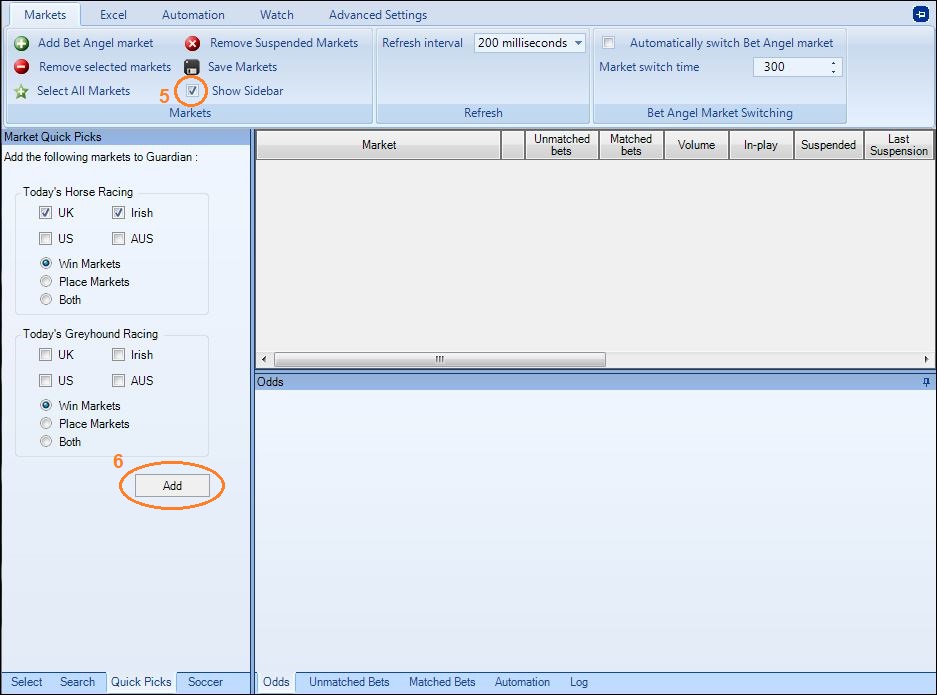 Step 7
Select the 'Automation' tab at the top of guardian
Step 8
Click 'Import a rules file' and browse your computer for the automation file you downloaded in step 1
Step 9
Select the rule file from the dropdown list
Step 10
Click 'Apply rule to all markets'

Now sit back while Bet Angel does the rest for you.

Of course, you can pick and choose the markets you wish to apply automation to and you can apply different automation files to each market. Also, once you're familiar with the process of downloading and using the example files the next step I'd recommended is that you look at editing/modifying them to put your own unique spin on them.
Additional resources
If you want to view all the available automation file you can import and use on Bet Angel, visit this area of the forum: –
https://www.betangel.com/forum/viewforum.php?f=43
If you want to explore each of the features that are in the automation individually, then visit the user guide: –
https://www.betangel.com/user-guide/advanced_automation/
If you want to learn how to use all features of Bet Angel and learn something interesting about the markets, visit the Academy: –
https://online.betangelacademy.com
The post Automate a whole day's trading in 10 easy steps! appeared first on Betfair trading blog | Expert advice from Professional Betfair trade.